01273 620489 or 07795 821916
The BCCC is an award winning business based just on the edge of the city. We make our own high quality garden and horticultural products including high grade Top Soil, Organic Compost, Mulches and Bark- chip. We also sell quality, seasoned logs and firewood through our sister company; Brighton Logs Centre.
We offer Brighton & Hove residents a cheap and efficient garden waste collection & garden waste clearance services.
For local businesses creating garden waste, a operate an environmental garden-waste recycling facility.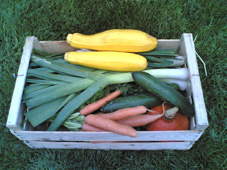 Veg-box grown with our Organic Compost at Pannel Organics, Newhaven


More about what we offer:
We offer a range of excellent value collection services which keep your waste away from landfill sites helping to keep the city tidy. The Bccc contributes significantly to the city's targets in recycling such 'wastes'.
Please see our Household Garden Clollection page for details of our collection services.

100% of the material we process is recycled into garden and horticultural products of high quality which are for sale at big discounts compared to garden centre prices. Please see our Products for Sale page.

As a social business we offer a 20% discount on the price of all our products to eco-schools, environmental projects and other community organisations involved in producing or educating about local food production. Please see our what we do page for details.
We are a licensed green-waste disposal site and offer to businesses a local, environmental option for disposing of their waste arisings. Please see our Commercial services page for our conditions of use.