Our garden waste collection & garden clearance services
We offer the best and most affordable garden waste & garden clearance sevices in town!
For big, bulky amounts:

We can pick-up your garden waste in our van. Just tell us where it is and we will come round and give you a free quote. If your happy with the price, we will take it away there & then and have a sweep & tidy up too.
Garden clearance:

If you have a bit of a jungle that you need cutting back, so you can see where to start - and you want the waste taking away - all for one low price. Why pay expensive rates when we will have the lot carefully cut back and taken away for recycling in no time at all. Free quotes too!
Please find more details on any of our garden waste collection services or our waste clearance service explained below:
The 'Bulky' garden-waste clearance:
For those big amounts and spring clean-ups.
Get the best price in town for our large open high-side van, which holds a big load of garden waste (see picture below for an idea of how much).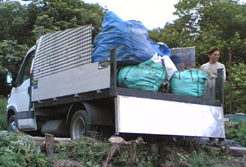 Please note: The price will be less or more depending on the difficulty removing the garden waste - how near we can get the van etc. If you are unsure we offer free quotes. Please ring 01273 620489.

The 'Giant Sack' Collection Service:
For those who prefer to fill-up bags themselves and reduce costs.
These sacks are super strong 'builders bags' which can hold about a cubic metre. We will deliver these bags to your door and collect them again when they are full. Prices start at only £29.50 + vat! Better value than a Hippo bag!
See pictures below:
The big bag on the left is a bulk bag * Please note, no soils/turfs or heavy materials with this service. The bags must be left near the point of collection i.e a driveway or in a front garden. Please ring us if your not sure.


The 'Green Sack' Collection Service
An affordable collection service for the busy gardeners that produce too much
material to compost themselves.We will deliver flatpacked x10 green bags to your door and collect them again when you have filled them for only £29.50 (+vat) (Minimum of x10 bags).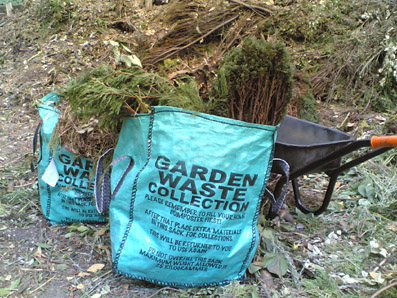 * Please ensure garden waste only goes in the sacks, as we will not remove them if they contain rubble, metals, plastics or other non-plant based materials. We reserve the right to refuse contaminated bags at our discretion. No refunds will be made if contaminated.

If you would like to place an order for any of the above services please email us with your details and which service you want or call us on: 01273 620489