Our garden products for sale:
!Special Offer!

A half-ton bulk bag of fantastic, rich
multi-purpose organic compost



Normally £57.50+vat per bag
Buy two bags at an unbeatable
£54.50+vat per bag!
Includes free local delivery

ORGANIC GENERAL PURPOSE GARDEN COMPOST Screened to 10mm
Made from 100% natural materials with no peat or artificial fertilsers. It is an excellent product for healthy vegetables and flowers, strengthening the fertility and structure of your soil. Use either as a top dressing or lightly dig into your soil. We get many regular re-sales from satisfied customers:

"The general purpose compost was rich, crumbly and incredibly versatile; from seeds and potting on to bedding plants in containers, filling our raised vegetable beds and even planting trees; it was exactly what the plants needed and they thrived in it all year". Mr S.Bustin


loose truck load
£109.50+vat
Our best value deal per weight/volume
being around 1.8 cu/meters (about 1.25 tons).
35 litre bag (in strong sealed bags)
£4.50+vat.
That includes delivery to your front door *

(minimum delivery order x10 bags, or any 10 of our mixed bags).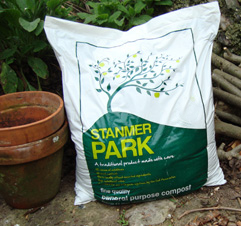 BEST QUALITY TOPSOIL BLEND
Our premium product. A top-grade horticultural soil. Ideal for new raised beds as you can plant directly into this medium and start sucessfully growing straight away (unlike compost and cheap builders top-soils).
£74.50+vat per bulk-bag

Special offer: buy an additional bag for £69.50 + VAT per bulk bag (bag(s) must be delivered at the same time as full price bag)
Includes free local delivery!

This is a 70/20/10 mix of heat-treated top-soil, extra matured compost and land grade sand. It is machine blended producing an easy worked, nutritious material. Ideal for planting vegetables and flowers directly into, seeding lawns or laying turf. Its so bio-dynamic it even has worms!
Screened to 10mm.
Average weight 600kg or over half a ton.
'Thanks for the delivery of the loose load, it's on the garden doing good. It looks good quality; I'm pleased that we purchased from you'. Tony.W
Loose truck load:
£145+vat (around 1.5 cubic meters or 1200kg) Our best value deal per volume/weight.
30 litre bags:
£5.45+vat
Includes delivery to your front door. Please beware these bags are heavy to lift
c.20 kgs*
(minimum delivery order x 10 bags - or any 10 mixed bags).


BASE TOPSOIL Non-screened
This is the ideal material for cheaply levelling off slopping areas, hole filling or building up base layers. This material is best topped off with a layer of Blend or Compost
*Note This product may contain weed seeds and lumps / debris. It is un-screened. Please ask if in doubt about what you need.
£57.50 per bulk bag

£92.50 per loose truck load (around x1.8 cubic meters or 1.25 tonnes)
Weed suppressing and water conserving mulch made from shredded tree bark and branch. Ideal as a cover for plant beds and borders. We mature this product over three months until 'browned off'. It will break down into your soil over 3-4 years slowly releasing valuable nutrients:

£4.50 per 45 litre sack.
£47.95+vat per bulk bag (around a cubic meter)
£135+vat per tipper load (around 4 cubic meters)!
SOLID HARDWOOD WOODCHIPINGS
Ideal for hard wearing areas such as paths and standing areas. Ideal on top of Mypex and other plastic ground matting. Solid pieces are chipped from hardwood branch and trunk wood. This product can last years, suppressing weeds and keeping paths tidy, but will eventually naturally break down.

£6.25 per 40 litre bag.
£82.50+vat for one bulk bag - Special offer! £77.50 for any additional bulk bag.